Independent Reviews of f-stop Camera Bags and Backpacks
We love our camera backpacks and bags, and we think you will, too. Watch or read through the following reviews, and you will find a consistent theme. Independent reviewers rave about f-stop quality, design and materials. In short, f-stop camera backpacks are among the best camera backpacks and camera bags you can find!
From The Loam Wolf Review:
We're no stranger to f-stop bags here at The Loam Wolf, having tested a couple of them over the years with great success. So, when it came time to replace my camera bag, I wanted to get a slice of the f-stop pie for myself. Thankfully f-stop was onboard and agreed to let me put their Ajna 40L Travel and Adventure Camera Backpack to the test, read on to find out how it performed.

Click here to read the whole review
f-stop Dyota Laptop Sleeve 15 ″ review
From the CEOTECH.IT review:
The quality of the product and the attention to detail can already be seen by looking at the packaging, simple but design and made of completely recycled material.Once removed from the package you can appreciate the construction quality of the bag and you can see the details:
The front is in patented DYOTA fabric - a fabric that is really beautiful to look at and to the touch, and it immediately transmits a certain sense of strength. The fabric is waterproof and the back is made of Hypalon, a synthetic polyethylene rubber known for its resistance. All zippers are welded and seamless and are also water resistant and there are 3 handles, one with a comfortable buckle that allows you to hang the bag safely on any object is really convenient.
This fabric is really tough as well as being very elegant. Testing with water, the tissue does not absorb anything even if it is left with water on it for several minutes.
Click here to read the whole review
Review Dyota 20L Roll-Top Camera Pack f-stop photographic backpack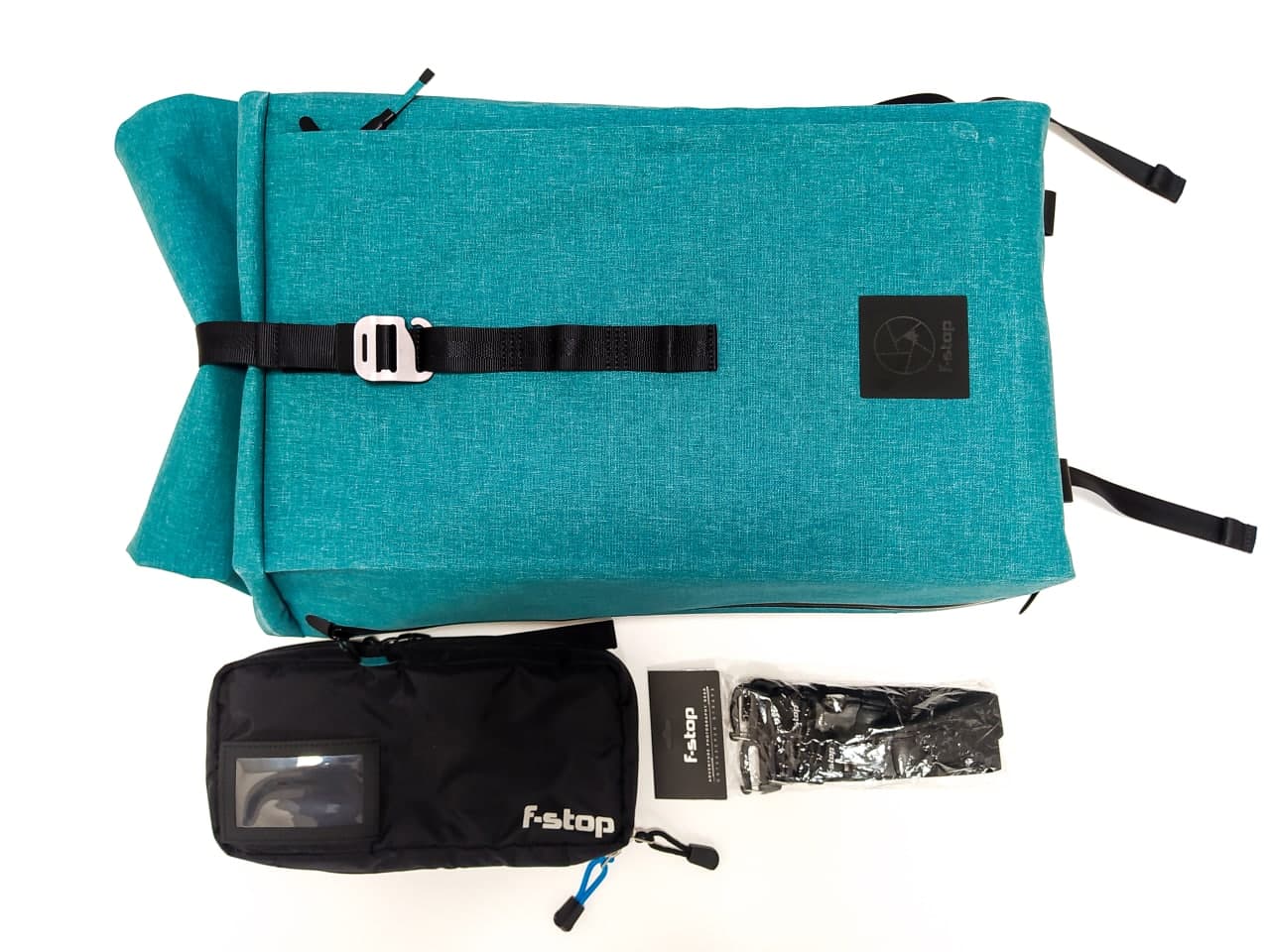 From the CEOTECH.IT review:
Ideal for those looking for the perfect compromise between elegance, quality of materials, versatility and durability.The f-stop Dyota 20 is a 20L photo backpack equipped with a removable internal transport unit (ICU) to protect photographic equipment, a medium-sized accessory pouch, two ICU compartments and six zipperless compartments.
Click here to read the whole review
F-STOP DYOTA 20L CAMERA BACKPACK REVIEW 2021
From Roy Cruz Photo's review:
My journey with f-stop camera bags started a few years ago with the Loka UL 37L. This lightweight and ultra-functional bag is still very much integrated in my workflow to this day. As I mentioned in my review, it's my go-to bag for multi-day assignments which involve carrying camera gear, clothing, computer, etc. The company really changed the game with it's infinitely configurable ICU system and innovative bag design. However, the Loka UL is more of a bag that you lay down on set or location to shoot out of. The Loka met my needs nicely, but I also wanted something a bit more run and gun, something would give me instant access to my gear without necessarily having to lay it down and open up completely – something suitable for a 1-day assignment or photo walk in the city. When f-stop released the Dyota 20L, I was immediately drawn to it for those reasons. Earlier this year, I was given a chance to put the bag to the test and I've been using it regularly for the past few months.
Click here to read the whole review
F-Stop Small Shallow ICU (Internal Camera Unit) Review
From the PackHacker review:
f-stop is the perfect example of a company that focuses on doing one thing well, and that one thing is carry solutions for camera gear. They offer an Urban series for daily carry, a mountain and ultralight series for traveling, and a wide range of internal camera units that are designed to organize, protect and store camera equipment within your pack.
We've been testing the F-Stop Small Shallow ICU (internal camera unit) for the last 3 months—it's been on a few trips to Belgium and Spain, as well as a handful of short trips around town. These ICU's are engineered to function seamlessly with F-Stop's Mountain Series packs, but the great thing is you don't need an F-Stop bag to utilize them—they have the ability to turn ANY bag into a camera bag by just dropping one in.
This idea, of course, had us really excited. Can you truly turn your backpack into a camera bag just by picking one of these up? Let's find out.
The F-Stop Small Shallow ICU is clearly built to last. At the time of this review, we've been testing it for about 3 months, but it has held up incredibly well—you could still pass this thing off as brand new. It has also done a solid job of protecting our camera gear—the dividers secure everything tightly so nothing moves around, and the high-density foam puts our mind at ease, knowing our gear is safe in our pack.
The best thing about this ICU is undoubtedly its versatility. You can slot the unit inside your 40L travel bag, 20L daypack, carry it on its own, or just use it for storage. If we're being honest, our camera gear only leaves the ICU when it's actually in use.
Ahoy, adventure. F-Stop Lotus camera backpack - review
From the Spider's Web review:
32 liters of capacity, more or less a million pockets, pockets, hooks and fastening systems, a smart container for photographic equipment and very high comfort - this is the F-Stop Lotus backpack in short.
As for the ICU itself, it has absolutely nothing to complain about. It is adequately padded on all sides - both at the outer and inner edges. During all the trips, I had no fear that something might happen to the transported equipment, and the more valuable items can be additionally secured with bonus straps on top so that they do not fall out uninvited when opening the container.
f-stop Lotus - is it worth it or not?
It's worth it, if we plan all-day mountain trips, we appreciate the possibility of modular organization of the inside of the backpack, we want something that will protect the equipment against weather conditions (and not only), and it will be extremely comfortable. Plus to the set, we take a lot of equipment with us, not necessarily related to photography, which we plan to attach to the backpack.
On the plus side:
solid workmanship
the possibility of modular interior arrangement
great access to the interior
a multitude of pockets, pockets, hooks, mounting points
phenomenal comfort
water-resistant outer material
Click here to read the whole review
Best camera bag and backpack for 2021
From the C|Net review:
f-stop's Kashmir 30L backpack is a superb choice for more active photographers. Whether that's fast hiking, cycling or trail running, the bag's exceptional light weight makes it great for always having a proper camera setup with you....
Inside you have the option of what sort of camera storage unit you need. My review model came with the "Essentials bundle," which includes a medium internal camera unit and a rain cover. The medium unit has plenty of space for a camera and at least one lens, plus accessories...
The medium unit also keeps more of the rest of the bag available for other items (a jacket, some snacks) that you might want on your journey. You can opt for one of the larger internal units, along with a variety of other straps and accessories, but they do add quite a lot on to the price.
Click here to read the whole review
From the C|Net review:
The Lotus isn't quite as light and nimble as the Kashmir, but with a more stable frame and additional straps and pockets, it's well-suited for adventure photographers who need to pack everything in. The outer materials feel exceptionally hard-wearing and I had no worries about throwing it in and out of my car or casually laying it down on rocky pathways while I rummaged for my gear. All of the zips, straps and stitching feel reassuringly robust.
Like the Kashmir, you have the option of what size of internal unit to opt for and I again had the medium size in my test model. There's plenty of room for my essentials (a Canon 5DMkIV with 24-70mm lens, plus a 70-200 zoom and filters and spare batteries) with straps on the outside for a tripod. If you're leaving for a longer photography expedition, look further up the range. The 70-liter version will accommodate the larger internal unit for more lenses while leaving ample room for clothing or even camping equipment.
Click here to read the whole review
From the ShotKit review:
Build
The f-stop Ajna is made of an extremely durable materials. It honestly feels like you could set this down anywhere – on dirt, rocks, sand, or even mud – and not have to worry about the material getting damaged. The bag itself is waterproof and the waterproofing on the zippers is high quality.
Rating: 9/10
Weight
For what the Ajna offers (and the fact that hikers tend to need less weight than more), this bag weighs just right. It'd be hard to imagine it offering the space it does and getting any lighter.
Rating: 9/10
Looks
The Ajna is available in Nasturtium (bright orange), Anthracite (black), and my personal favourite, Aloe (seen above). The Nasturtium is f-stop's signature colour, which would certainly turn heads, and is probably a good thing for safety (increased visibility) while hiking. I like the f-stop branding and this certainly doesn't look like a regular hiking camera backpack.
Rating:9/10
Capacity
The camera carrying portion of the f-stop Ajna uses removable ICUs (Internal Camera Units) and can hold up to a Large Pro. Depending on how you configure it, the Pro can hold 1-2 camera bodies and 4-6 lenses, plus other goodies. [f-stop note - the AJNA Essentials Bundle includes a Medium SLope ICU.]/i>
Rating: 9/10
Click here to see the AJNA review
From the ShotKit review:
Weight
This thing's as light as a feather! If only all camera backpacks were this light. At only 0.8kg / 1.8lbs, you can really make the most of your carry-on allowance on those strict internal airline carriers. It's also a perfect weight to be carried all day around a city, which is how it's intended to be used.
Rating: 10/10
Looks
With its fashionable (hipster?!) roll-top design, textured/shiny exterior, and funky colour names (Aloe, Nasturtium and … err.. blue?), the F-Stop Dalston certainly stands out from the crowd. I particularly like the muted black square logo on the front, which doesn't detract from the overall statement.
Rating: 9/10
X-Factor
I couldn't stop playing with the Dalston for the whole 2 weeks I tested it! Virtually everyone commented on it, photographer or otherwise. I can imagine in the loud orange ('nasturtium') colourway, you'd get even more attention.
It's nice to have something as unique as this on your back in a world full of rather boring-looking camera gear.
Rating:10/10
Click here to see the Dalston review