F-STOP AJNA 40L REVIEW
CAMERA BACKPACK WITH PRO-LARGE ICU
From The Loam Wolf Review:
We're no stranger to f-stop bags here at The Loam Wolf, having tested a couple of them over the years with great success. So, when it came time to replace my camera bag, I wanted to get a slice of the f-stop pie for myself. Thankfully f-stop was onboard and agreed to let me put their Ajna 40L Travel and Adventure Camera Backpack to the test, read on to find out how it performed.

Click here to read the whole review
f-stop Dyota Laptop Sleeve 15 ″ review
From the CEOTECH.IT review:
The quality of the product and the attention to detail can already be seen by looking at the packaging, simple but design and made of completely recycled material.Once removed from the package you can appreciate the construction quality of the bag and you can see the details:
The front is in patented DYOTA fabric - a fabric that is really beautiful to look at and to the touch, and it immediately transmits a certain sense of strength. The fabric is waterproof and the back is made of Hypalon, a synthetic polyethylene rubber known for its resistance. All zippers are welded and seamless and are also water resistant and there are 3 handles, one with a comfortable buckle that allows you to hang the bag safely on any object is really convenient.
This fabric is really tough as well as being very elegant. Testing with water, the tissue does not absorb anything even if it is left with water on it for several minutes.
Click here to read the whole review
Review Dyota 20L Roll-Top Camera Pack f-stop photographic backpack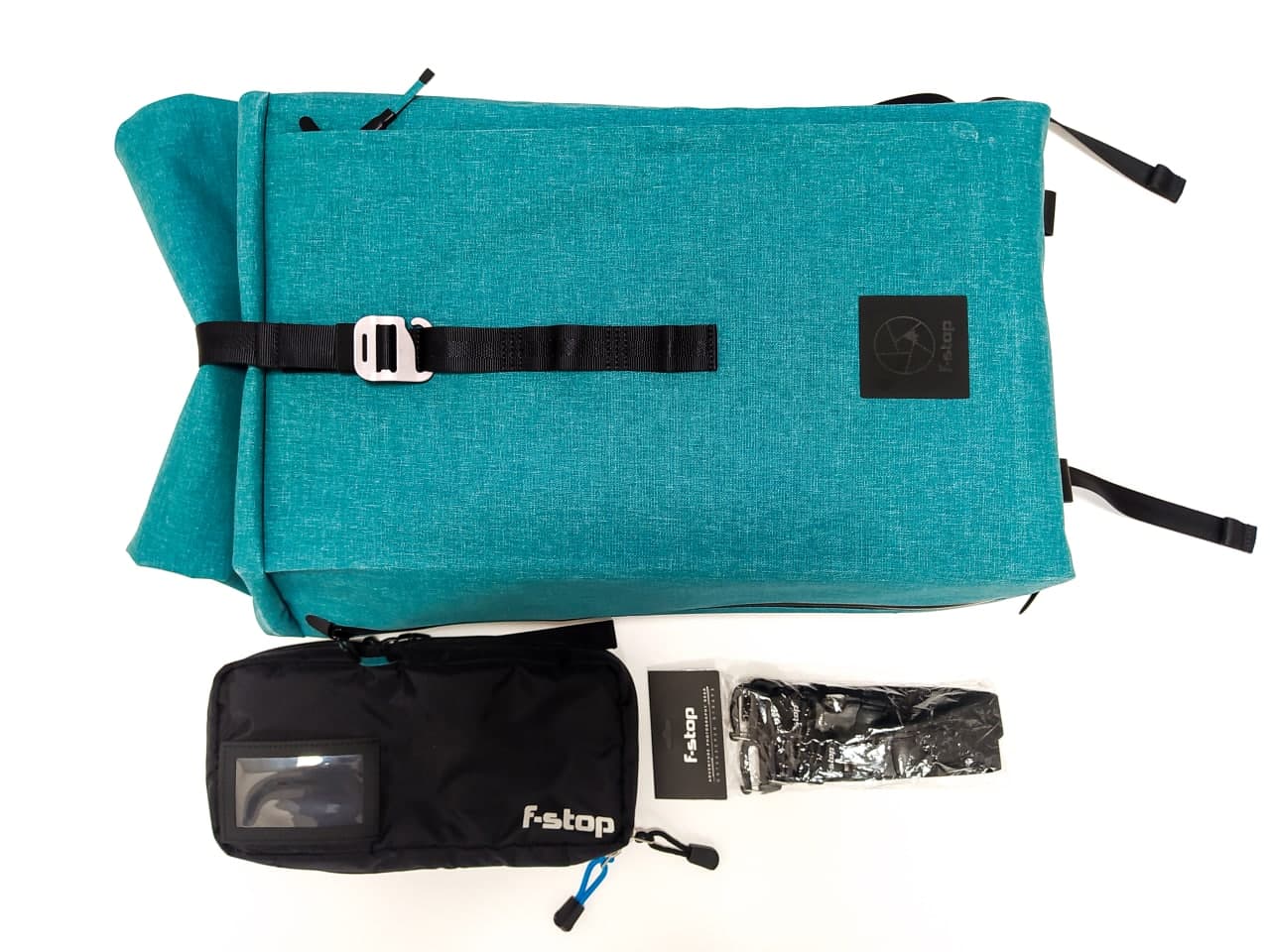 From the CEOTECH.IT review:
Ideal for those looking for the perfect compromise between elegance, quality of materials, versatility and durability.The f-stop Dyota 20 is a 20L photo backpack equipped with a removable internal transport unit (ICU) to protect photographic equipment, a medium-sized accessory pouch, two ICU compartments and six zipperless compartments.
Click here to read the whole review
f-stop TILOPA - The Perfect Pack: REVIEW
From the Perfect Pack review:
f-stop bags are built for diehard photographers who want a bag that is durable enough to withstand constant contact with the outdoors. I'm rough on my gear and I need a bag that is going to stand up to constant abuse. At the end of the day, the Tilopa is probably the most rugged bag on the market and the ICU system certainly makes it the most customizable. Take the ICU out and you have a great day pack or even a small overnight backpack.
Click here to read the whole review
Best shoulder bags for photography
From the Carryology review:
With its water resistant, low-profile design the f-stop Florentin is an appealing option for carrying camera gear under the radar in urban settings. Suitable for a small camera setup, the Florentin includes a removable padded main compartment with three dividers. There's also storage for up to a 12″ tablet or laptop, as well as a front organizer pocket. You've also got portability options on hand here too, with a luggage handle sleeve, top carry handles and a shoulder strap.
Click here to read the entire review
f-stop AJNA BACKPACK ShotKit REVIEW
From the ShotKit review:
The f-stop Ajna is a workhorse of a hiking camera pack. It's tough, efficient, and has enough carrying capacity for both camera gear and backcountry gear.
It's not flashy nor does it have a lot of special features, but it gets the job done admirably. If you're needing 40L of space, you probably won't find a better pack.
If you need more space (i.e. you're looking to do longer trips), it's worth looking into the Tilopa (50L) or the Sukha (70 L) or you can combine an ICU with a backpack made specifically for backpacking.
For the 40L Hiking Backpack category, however, the f-stop Ajna is where it's at.
Click here to read the whole review
f-stop LOKA UL 37L REVIEW – A GREAT ALL-IN-ONE CARRY SOLUTION FOR THE TRAVELLING PHOTOGRAPHER
Photographers Are Going to Lose It Over These New Bags
From the Gear Patrol review:
There are a lot of travel-oriented, adventure camera bags available to photographers these days. Chances are you've seen quite a few of them in photographs and videos, and chances are if those pictures in reels took place in a rugged environment, f-stop Gear made the bag.
f-stop was among the first to recognize roving photographers' need for better equipment, and it reacted by blending the padded compartmentalization of camera bags with the technical features of expedition backpacks. f-stop made its name in the adventure photography world, but its new line of backpacks and shoulder bags is for the urban explorer.
Read the entire review here.